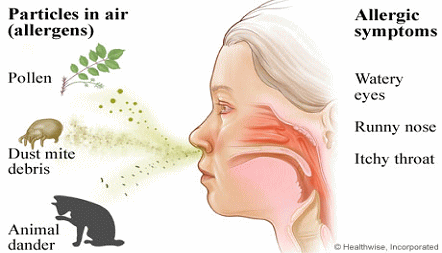 Hay fever symptoms usually start immediately after you're exposed to a specific allergy-causing substance (allergen) and can include:
・ Runny nose and nasal congestion
・ Watery or itchy eyes
・ Sneezing and Coughing
・ Itchy nose, roof of mouth or throat
・ Sinus pressure and facial pain
・ Swollen, blue-colored skin under the eyes (allergic shiners)
・ Decreased sense of smell or taste
Your hay fever symptoms may start or worsen at a particular time of year, triggered by tree pollen, grasses or weeds, which all bloom at different times.
If you're sensitive to indoor allergens, such as dust mites, cockroaches, mold or pet dander, you may have year-round symptoms.
Is it hay fever? Or is it a cold?
Signs and symptoms can be different.
Here's how to tell which one's causing your symptoms:
| | Hay Fever | Colds |
| --- | --- | --- |
| Signs and symptoms | Runny nose with thin, watery discharge; no fever | Runny nose with watery or thick yellow discharge; body aches; low-grade fever |
| Onset | Immediately after exposure to allergens | One to three days after exposure to a cold virus |
| Duration | As long as you're exposed to allergens | Five to seven days |
When to see a doctor
See your doctor if:
・ You think you may have hay fever
・ Your symptoms are ongoing and bothersome
・ Allergy medications aren't working for you
・ Allergy medications work, but side effects are a problem
・ You have another condition that can worsen hay fever symptoms, such as nasal polyps, asthma or frequent sinus infections